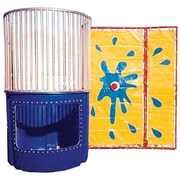 Classic Event Dunking Booth
Dunk Tanks have been delighting crowds for years. Choose who will be the lucky contestant to sit onboard our dunk tank and watch them get soaked! Choose your youth pastor, teacher, friend, your parents, or even your boss to sit on the seat as an incentive for guests to participate. The Dunk Tank has always been loads of fun at family reunions, picnics, church/school fairs, charity fundraisers and block parties!
Note: This unit is VERY HEAVY AND LARGE (will not fit thru regular gate) and requires drive-up access to the exact spot where it will be setup. Customer is responsible for providing a water source for filling the tank.